Choose between our black or transparent acyrlic box.

Select one of our four available patterns

Mix and match from our 22 rose shades.

Add a note to be written by our in-house calligrapher.
Shop the Most Popular Looks: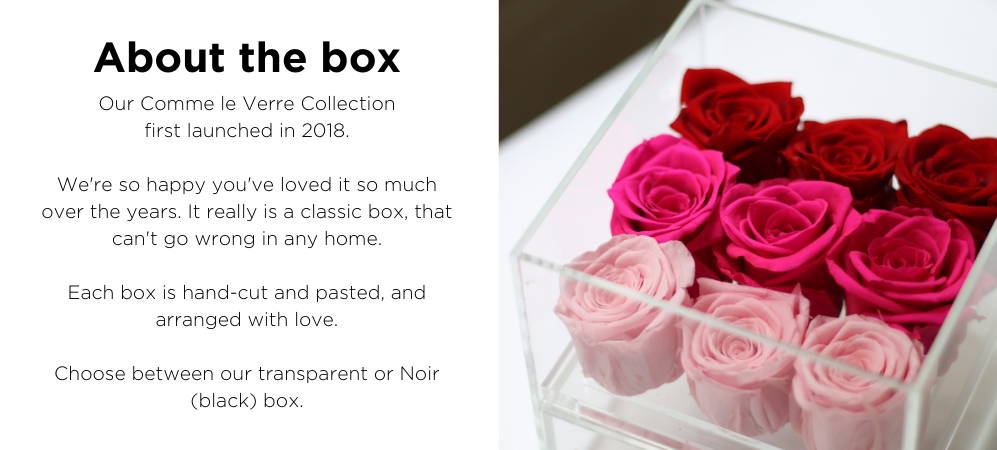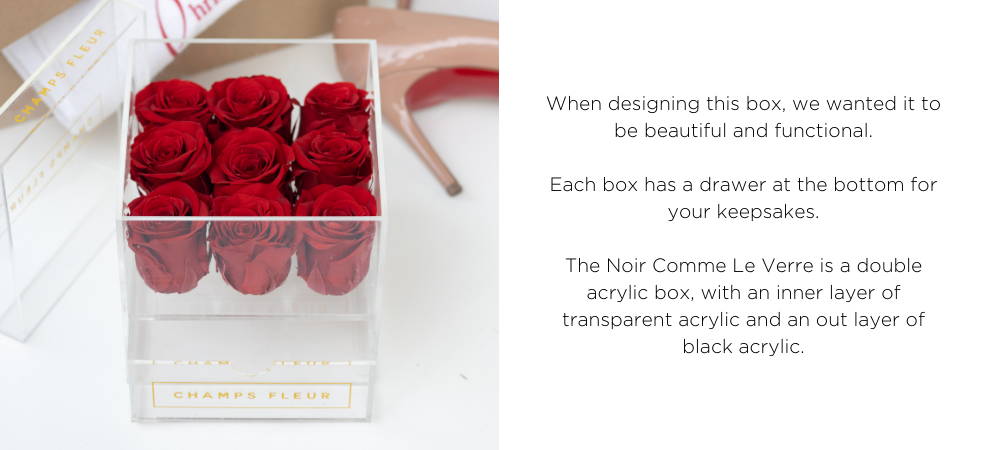 How can I customise my own 9 rose flower box?
What is the size of the box?
Approximately, 4 inches in height and 5 inches in width.
What are the differences between each pattern?
Solid - all 9 roses will be the same colour. You can pick only one rose colour here.
Ombre - Each row of roses will be a different colour. You can pick 3 rose colours here.
Checkered - Like a chessboard, you can choose two rose shades which will alternate.
Custom - Select 9 different rose shades.
What kind of roses are used for this box?
These will be made with our signature Infinity Roses. These roses will last one year.
How long will these roses last?
This box of roses has a life span of one year.
What rose colours do you have?
We have 23 rose colours available to mix and match from:
Red, Navy, Black, Ballerina, Fuchsia, Blush, Deep Purple, Himalayan Pink, Champagn, Aquamarine, White, Tiffany, Lilac, Pale Blue, Amethyst, Grey, Ballerina, Orange, Vino, Mint, Green, Lemon Yellow, Dusty Rose, Azure Blue
We ship and delivery India wide.
How long will delivery take?
Between 1-10 days depending on your Pincode.
Metro cities: 1-3 days
Non-metro: 3-10 days
We cannot guarantee the date or time of delivery.
Let customers speak for us